We are all learning life's lessons through our everyday experiences and circumstances.  When I am able to sidestep the chaos of daily life and be just me with my writing and photography, I feel empowered to experience my life differently.  With all that I create, I try to do so through the filter of my Heart.  By honoring this filter with my creative efforts, I am hopeful that my ability to see everyone and everything through the filter of my heart, not my mind, will become my only way of being.
It is my hope that others who find their way here will feel inspired to do so as well; possibly because of something that they have read or seen across my shared pages.  What if we created a movement with our collective energy, creating a positive and healing momentum of change?  Now or in the future, please contact me to share your own Heart Opening Life experiences.  In time, I will add here a Shared Heart Opening Life Expressions wall, where everyone's voice is heard.
I hope that you will come back as often as you can to browse the pages of my LIBRARY.  Soon, I will also be announcing a weekly Heart Opening Life blog here.
For now, I thank you for sharing aheartopeninglife.com forward…
My Writing and Photography
I have been creating books, photo books, blogs, magazine articles, newsletters, short stories…and more.  When I initially began my daily practice of writing with my Daily Sunset Journal blog, I unexpectedly learned that my writing was helping me with finding my way through to having a better relationship of acceptance and understanding with myself.  For me, it was better than years of therapy!
Until now, I have never felt worthy of introducing myself as a Writer or a Photographer.  With all that I have created and tried to submit for publication, I have never been able to find my way beyond, "We cannot review unsolicited work."  My resulting and limiting thought has always been, "If I'm not supporting myself financially with this passion of mine, then I must not be worthy of being a Writer…a Photographer."  This thought has kept my words and photos stuck in the purgatory of my drawers and computer's folders…until now.
It is time for me to reclaim my "Inner Voice".  It doesn't matter if I am able to support myself financially through this passion of mine.  I am a Writer, even if no one reads a word that I write.  I am a Photographer, even if no one sees an image that I have captured through my lenses.
As I am learning to have a relationship with my writing, I am truly learning to Open My Heart.  Importantly, I am doing so with no fear of judgment…of me or what I create.
Note:  This photo was captured through my lens along The Tamar River in Tasmania, Australia.  I felt this perspective to be a gift from Mother Nature, as a reminder that we are all a reflection of everyone and everything that is around us…
My Heart Opening Life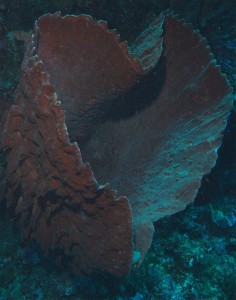 No matter how we see ourselves or others, I believe that it's an important time for all of us to display more empathy.  It is time for every one of us to empower ourselves with feeling and seeing how we are all similar and connected.
It is my sense that we would all agree that we are mostly afraid of what we don't know or understand.  By clearing the fog of our limiting thoughts, by shining Light upon what is before us, I hope that we will see others more clearly for who they are inherently; and that sometimes, we will unexpectedly see ourselves being projected upon another's reflection…even if only for a flicker of time.
We can all begin by engaging with others who we know, who we don't know, and asking them to share a story about themselves.  We're not afraid of what we know.  Again, we're usually afraid of what we don't know.
Note:  I was diving in 90 feet of water in The Bunaken Marine Park in Sulawesi, Indonesia.  There was a steady current carrying me along the face of the wall.  When I saw this heart shaped barrel sponge, I was determined to kick back and get the shot!  This photo is the cover photo of my book titled Terima Kasih.  You can find a free download of this second book in my series of three in my LIBRARY…
Again, if you feel able and comfortable with helping me to multiply this energy found here, please share aheartopeninglife.com forward…
Thank you very much, Diana Ring